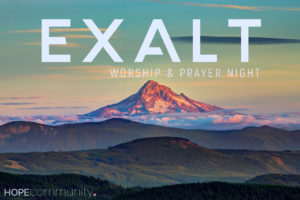 The

Lord

is exalted over all the nations,
his glory above the heavens.
Who is like the

Lord

our God,
the One who sits enthroned on high?
Friday, July 27 / 7.30 – 9.00 pm
We welcome you to a night of Worship and Prayer.
The evening will be lead musically for participants to engage with God both corporately and personally in Praise and Worship.
This atmosphere of Worship is also perfect for self reflective prayer and devotion.
The format of the night is casual, feel free to drop in or leave at any time.
We look forward to a powerful time in the presence of the living God!