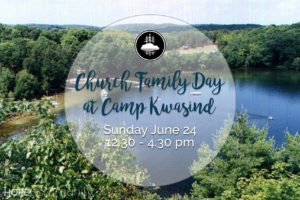 CHURCH FAMILY DAY

Sunday, June
24 / 12:30-4:30 pm

at Camp Kwasind

After the morning service we head straight up to Camp Kwasind.
There will be lunch, followed by group games and sports.
We will also enjoy some time on the beach and around a campfire.
It'll be a fun day with the whole church family!
Sign up on the welcome table at church or send us an Email.
Cost: $ 10 p.P. // kids ages 12 and under free