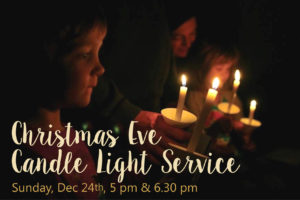 Christmas Eve CANDLELIGHT SERVICES

Sunday, Dec 24th / 5.00 pm & 6.30 pm

at HOPEcommunity

Come out to a beautiful 1-hour Candlelight Service this Christmas Eve!
It's the perfect place to start your Christmas festivities with your family, friends and neighbors!
To accommodate your plans on this special evening, we are offering two identical services at 5.00pm and 6.30pm. Come to whichever one suits you best! Hot Apple Cider will be served afterwards.