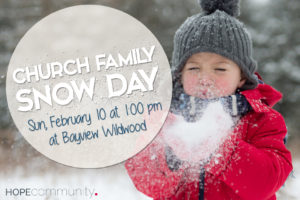 Church Family SNOW DAY

Sunday, February 10 at 1:00pm
On Sunday, February 10th we invite you out to Bayview Wildwood Resort (

1500 Port Stanton Pkwy, Severn Bridge) for a fun afternoon out in the snow!
There is an ice rink for skating and hockey. Cross country skis and snow shoes are available to use. There will be a bonfire with chairs to sit outside and hot chocolate will be served.
Please bring warm active clothes to spend the afternoon outside. Families may wish to bring a bag lunch and eat at the church after the service before heading over to the resort at 1:00 pm.