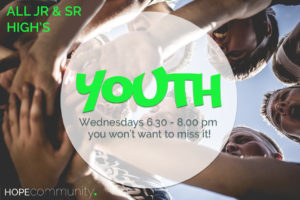 JR & SR HIGH Youth
Grades 6 – 12
If you are in Grades 6 – 12 you won't want to miss our YOUTH program on Wednesdays, 6.30 – 8.00 pm in the gym of Severn Shores Public School in Cumberland Beach, right next door to HOPE Community Church.

Bring a friend and come on out for fun nights packed with games, food, awesome friends, quality conversations and powerful times connecting with God!
We can't wait to see you there! It's the place to be on a Wednesday night.