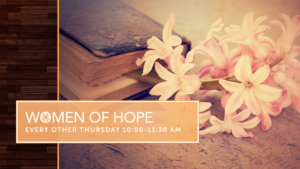 WOMEN OF HOPE
"Building relationships through fellowship"
"Growing in love & unity through encouragement"
If you would like to come out to our Prayer & Fellowship Evenings, fill in your details below to receive our Emails with latest dates and locations!
Mark these dates for our Bible study on the book of Ephesians.
Bible Study at the church every other Thursday morning from 10:00-11:30.
Contact Kristine
Fields marked with an
*
are required