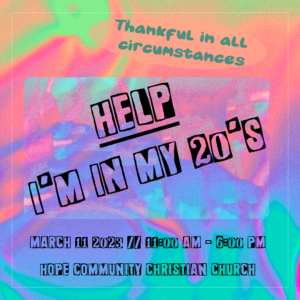 Your 20's are some of the most exciting years of life as you gain Independence, embark on new adventures, and pursue your dreams with adult status. They also happen to be filled with years of transitions, big questions & decisions, and new responsibilities.
Come out and join in comradery with those in similar stages of life, hear some wisdom & learn from a panel of those who have experienced their 20's and then some, as well as take time to encourage and pray with one another.
We will be covering topics such as family life, finances, career, and living for Jesus in our day to day lives.
Snacks, lunch and dinner will be provided.
The kid's room as well as the nursery will be open during the day so bring your kiddos along! Children will join us for snacks and meals, there will be programming for kids above 3 including crafts, games, a bible story and prayer. Those under 3 will be in the nursery with lots of fun toys, singing, and play.
This event comes at no cost but we do ask that you register so that we can make the necessary accommodations.
Saturday March 11th 2023
11:00 am – 6:00 pm
Hope Community Christian Church
Email jess.barker3316@gmail.com for more information or if you are interested in volunteering at this event.