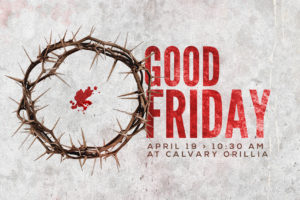 GOOD FRIDAY SERVICE

Friday, April 19, 10:30 am
at Calvary Pentecostal Tabernacle, Orillia

On Good Friday, many local Christian Churches join together for one beautiful morning service to remember and celebrate the sacrifice and death of Jesus Christ. HE paid for all our sin and debt.
Come and join us in Orillia at Calvary Pentecostal Tabernacle to honor our Lord Jesus Christ who gave everything for us so that we can now live in a relationship with God.
Be sure to come early to find a seat!
375 Westmount Drive / Orillia, Ontario.