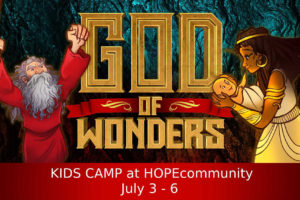 God of Wonders KIDS CAMP
Tues – Fri,
July 3 – 6 /
9 am – 12 pm

This summer, we are offering a 4 day KIDS CAMP here at HOPEcommunity for all kids from SK – Grade 5!
Make sure to sign up for this epic adventure where your kids will explore the exciting story of Moses and discover the God of Wonders along the way!
Music, Games, Sports, Food, Crafts and lots and lots of fun will be packed into every day.
The program is run by screened volunteers who love kids and already can't wait for this exciting week!

See you in July!