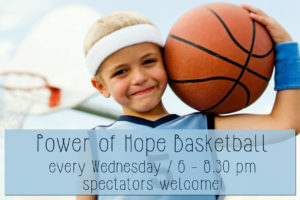 Every Wednesday,
at Severn Shores Public School
Power of Hope BASKETBALL
We're into Fall and excited for yet another great season of Power of Hope Basketball!
If you would still like to register your child for this season's basketball league, please call us at 705-812-2833.
The first 7 weeks begin on Wednesday, October 17
(no program Oct. 31 / Break for holidays after Dec 5)
Remaining 8 weeks begin Wednesday, January 16.
Our final celebration will be on March 6.